Slow Flowers Summit Recap
A few weeks ago, David Dahson & Barbara Schnur had the pleasure of attending the Slow Flowers Summit in the Bay Area. It was the fourth year for the Summit, but the second time Mayesh attended, and we couldn't be more thrilled to have had the opportunity.
David is a part of the Dahlson family and has been with Mayesh & the flower industry for decades. He is truly a flower expert and contains so much botanical knowledge, and has a passion for American grown flowers and collaborating with flower farmers in the States. He also just happens to be a wonderful writer, and took the time to recap the Summit along with his own thoughtful takeaways. Enjoy!
---
"Welcome to the Anthosphere"
Review of the 2021 Slow Flower Summit
By David Dahlson
This was my first time at the Summit, which is now in its fourth year. It is a development from the Slow Flowers movement originated by Debra Prinzing, which she has crystallized in the Summit. I was not sure what to expect but was pleasantly surprised by the variety of viewpoints presented at the conference. The wide diversity of the threads that relate to flowers presented at the three-day event inspired the term "Anthosphere". Technically, the "anthosphere" is a botanical term (meaning 'world of flowers') that relates to the microbial activity within the cellular structure of flowers and the immediate surfaces of the petals that are hosts to bacteria and fungi deposited by pollinators. However, I believe it is appropriate to use it in a broader way as a metaphor for the broad range of activities and industry inspired by flowers.

At the Summit, as one would expect, there were many flower growers, designers, wholesalers, but atypically there were also artists, authors, historians and people who simply love flowers. The event took place at the Filoli House and Gardens some 25 miles south of San Francisco, a Jay Gatsby type of estate built in the late 19th century at a cost of $8.5 million dollars in today's valuation and was a spectacular backdrop for the wide range of threads and topics presented.

The first day of the Summit was started by Max Gill, an inspirational Bay Area designer who strives to use locally sourced floral materials. In his presentation, he used elements from the extensive cutting gardens at Filoli, most of which were from the vegetable garden such as Cardoons, Sage, Oregano and embellished with sprays of white Clematis from his own garden. As he developed his large arrangement it looked like it would topple over in visual terms, but like a magician pulling the rabbit from the hat, when he added the Clematis at the end, the gorgeous composition became focused, balanced, and in harmony.


Max was followed by Susan McLeary, a talented and thoughtful floral artist who was the keynote designer at Mayesh's design retreat in Quito Ecuador in 2019. Sue is well known for her miniature flower designs that adorn the human body, and also for her massive installations. She gave a fluent presentation that succinctly outlined the methods and procedures for creating these installations, with many practical tips on mechanics, suspension points, types of flowers and foliage that will endure without water.


After lunch, the entire group of attendees, some 150 persons, did a "Flower Takeover" of the Filoli mansion, decorating the many large rooms, salons, kitchen, and ballroom with a wide variety of floral designs and arrangements. Many of the flowers were sourced from the cutting gardens, augmented by blooms from local growers and florist farmers. For several hours there was an explosion of chaotic labor amidst a mass of flowers, foliages, buckets, from which phoenix-like erupted surprising and beautiful floral visions. After all the areas were cleaned up, the result was a stunning floral tour-de-force. But perhaps what was even more impressive was the genuine cooperative and harmonious spirit of the people involved that could create such magic. After the last few years of division in our country, I found the unity to be inspirational.

In the late afternoon, there were two more presentations by Teresa Sabankaya and Abra Lee. Teresa gave a thoughtful discourse on the language of flowers, tracing its history through the last Millenium right up to the present, with a focus on the Victorian era when lovers and suitors would send covert messages to one another embodied in the form of posies; the original end-to-end encryption, as it were!

Closing the day's events, Abra Lee talked about the history and growth of Black florists in the 20th century, highlighting their imaginative entrepreneurial and artistic skills; no mean feat as amongst many other hurdles they had to fight through, they had to deal with racist bans by FTD, some going so far as to set up their own wire services. Certainly, I had not really thought about this issue, and I am grateful to Abra for bringing this chapter of floral history to my attention.

Day Two of the Summit commenced with the keynote address from Susan Mcleary. She offered a poignant and heartfelt exposé of her journey through life, obviously touching on flowers, but also her philosophy, her triumphs and tribulations and her relationships. It was inspirational in that she clearly demonstrated to all who were present that despite the many hurdles we encounter in life, they can be overcome. One telling vignette that I came away with was the metaphor she used to describe how she resolved the negative relationships in her life. I am paraphrasing but the sense she conveyed is that to create a beautiful garden, we often must deal with all kinds of problems, and to really allow for the vigorous growth in a garden, we need to remove the weeds and tares that strive to strangle development and beauty. In other words, it is prudent to eliminate the negative forces and people in your life, no matter how difficult that may be.


After a quick break, a panel led by three talented young people who are all accomplished individuals in the floral/horticultural world. Kellee Matsushita-Tseng, Molly Culver, and Emily Saeger discussed a wide gamut of topics encountered in the flower industry. They exchanged ideas and personal experiences, pertinently about sustainable practices in growing and designing, but also thoughtfully discussed LGBTQ issues, the problems that minorities encounter, and the accessibility of flowers for economically disadvantaged people. Speaking for myself, their ability to multitask; provide stimulating discussion AND design arrangements; was impressive.

The entire group broke for lunch after the panel discussion, and thereafter the conference continued with a presentation by Lorene Edwards Forkner, a painter, and watercolorist whose work focuses on flowers. She offered ideas and techniques to foment inspiration and creativity, with particular attention to the color in the garden. All the attendees received packets of paper, paint and brushes, and were invited to articulate in visual terms the colors that they respectively perceived in flowers. The session was enjoyed by everyone, as each participant realized their visons in watercolor, and was a wonderful illustration of individuality but also the harmony that can be enjoyed by a large group of people, when we come together with a shared objective.


Following Lorene was a quirky yet profound commentary on sustainability in the floral design business by Pilar Zuniga. Pilar is an indefatigably positive and optimistic life force, who has taken it into her own hands to do whatever she can to offer sustainable flowers to her clients at her studio "Green and Gorgeous" in Berkeley CA. She offered a plethora of practical advice on recycling everything in her business, reusing containers, accessories and props; delivering flowers by bicycle; offering discounts to clients who pick up their flowers and return containers; sourcing and foraging for local products; turning down commissions that do not align with her mandate, and even downsizing her business. She really is a flower sprite! While many in our industry find it hard to refuse business, Pilar has taken it upon herself to be true to her own personal vision.


The final address of the day, the "Capstone" as Debra Prinzing aptly termed this presentation, truly embodied the concept the "Anthosphere". Jennifer Jewell, who has a weekly podcast on NPR called "Cultivating Place", has recently published a book entitled "The Earth in Her Hands". This is an anthology that highlights the work of 75 women from around the world working with plants and flowers in a wide variety of ways. Her talk highlighted just a few of the diverse talents found in the book, including Midori Shintani - the head gardener at Tokachi Millenium Forest in Hokkaido, Japan; who works tirelessly to preserve and grow the Forest, which was originally developed as a carbon offset initiative. Jennifer related to us the extraordinary talents of Hemlatta Pradhan, a botanical artist working in Bengal, India who started painting the native orchids of her native land in an attempt to capture their existence before they succumbed to distinction from the incessant intrusion of man into the world places. Her work is sophisticated, accurate, and comparable to the detail found in Audubon's paintings. Jennifer talked about several other noteworthy talents, including Debra Prinzing, Françoise Weeks, and really brought home the rich diversity of ideas, opinions, and personal journeys that involve plants and flowers.

On the third and final day there was a trip to Watsonville to see two of the last remaining large-scale growing operations left in the area; Kitayama Brothers aka KB Farms, and Camflor. Back in the day, there were over 150 growers in the area, but due to most flower production going offshore, as well as the incredibly tempting escalation of land values, only a handful remain. But if anything, the Summit underscores for me that the need for flower production to return to the USA is of paramount importance. Offshore production is not going to be compatible with a sustainable and carbon-neutral (better- carbon negative) approach. It is becoming increasingly clear that climate change is going to present very serious and difficult challenges. The floral industry uses an enormous amount of cardboard, paper, and plastic to get the items to the USA. On top of that, the amount of plastic used in greenhouses, from greenhouse coverings, irrigation tubes, fittings, and buckets, is staggering. At Mayesh we are starting to gather and deliver by truck many flowers in water along the Pacific Coast, but that represents only a fraction of the flowers we require. I sincerely hope that attendees and as well as other flower growers unable to attend can take up the challenge for a more sustainable and beautiful future.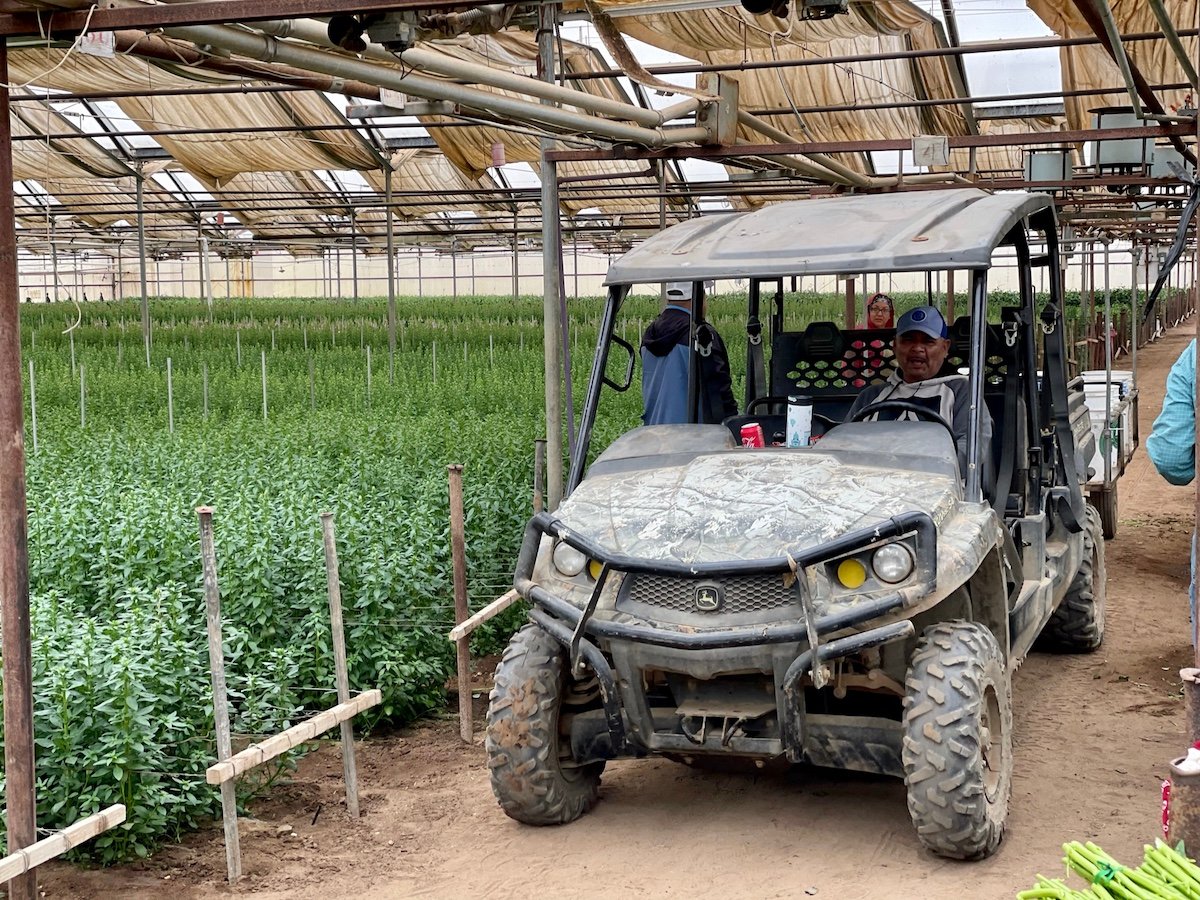 I would like to sincerely thank Debra Prinzing and her team for presenting this conference, as there is a lot of hard work involved in putting the Summit together, and we are proud to be a sponsor of Slow Flowers. Most of all I would like to express our gratitude for inspiring people from all walks of life to value flowers for the significant aesthetic beauty they bring to all our lives.