Since we're right in the middle of spring, AKA peony season, who better to feature as our May Mayesh Luxe Blooms Grower than Adelman Peony Gardens? Located in the Willamette Valley near Salem, OR, Adelman Peony Gardens grows over 500 varieties of peonies, and opens their farm to the public so they can share the beauty of their peony gardens with everyone. So let's learn a bit more about the family, the farm, and their gorgeous flowers!
---
ABOUT THE GROWER
The Adelman's began growing peonies almost thirty years ago, at first just to sell the plants. However, when they saw all of the beautiful flowers, they decided they should try to sell the flowers themselves! They have grown from only a few hundred plants to over thirty acres of peonies, specializing in unique and high end cut flowers that are not available from most growers.
There are three generations currently working together on the farm: Jim and Carol are the founders and are still very involved, Steve is the farm manager and takes care of all the daily operations, and Steve's daughter Kady has been managing their retail sales for the past six years.
Fun fact: Carol has been a peony lover since she was young!
Some behind-the-scenes of the farm...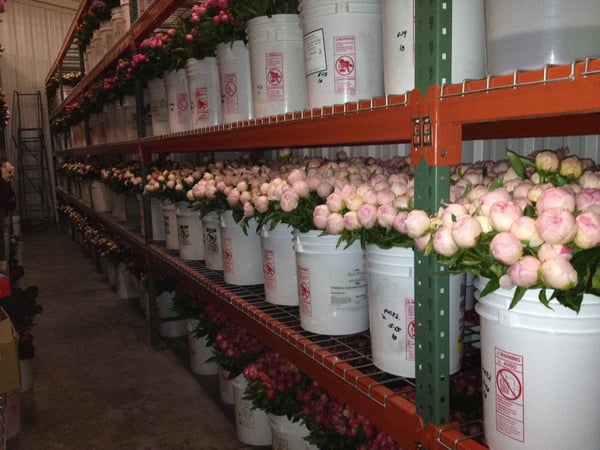 ---
FEATURED PRODUCTS
Coral Charm
Mid-May | Large cup shaped flowers of exotic deep coral | fades softly
Garden Treasure
Late-May | Rare yellow peonies with a soft scent
Lemon Chiffon
Mid-May | Large semi-double lemon yellow flowers | Very rare cut flower
Mister Ed
White to blush full bomb type flower with light fragrance
Walla Walla
Very fragrant double white | One of Adelman's own peony introductions
---
The Ultimate Flower Guide
Do you want 12 months of flower availability lists at your fingertips together in one place? The be sure to download our Seasonal Product Availability Guide!
Great to use for wedding & event consultations, planning product palettes for everyday designs, and new employees as a reference.